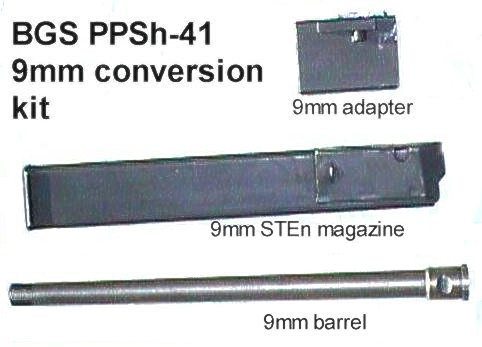 BGS offered a 9mm conversion kit for the PPSh-41 which was ready for sale mid August 2000. It is similar to the WWII German 9mm version. This kit works with STEn magazines. I have tried the BGS adapter in my Russian PPSh, and can say that it is well made and it works. The stick mag changes are a lot faster with this adapter than with an original PPSh stick mag. Push the release, the mag drops out of the way, then a swift insertion of a new STEn magazine and you are ready to start blasting again. If I am in a competition where drums are not allowed, I might seriously consider the 9mm conversion since I can pick up quite a bit of time between mag changes.

BGS is sold out of these kits (11-24-00). TLGuns was going to make another run of these adapters; however, unfortunately they have had serious financial problems and may be out of business. ( bill berg - Dec. 2002)
Update: InterOrdnance (http://www.ioinc.us/) still has their own 9mm conversion kits for sale (as of 01-08-2008), which use MP40 mags like the orginal German conversion.
---
---
Better Gun Shop posting 07-29-00 on Sturmgewehr.com "NFA Market Board":
>